When I first found out we were pregnant with Charlotte after struggling with secondary infertility, I wanted to shout it from the rooftops. But like many women who struggle with infertility, I was scared to celebrate. We had been through such a roller coaster, I couldn't let myself fully accept I was pregnant, and I was scared to say anything lest something should go wrong. Even after hitting the three month mark, the time when most people share the news and the threat of miscarriage has dramatically declined, I wasn't ready to tell people. I just kept worrying the ball would drop and something would go wrong. We actually waited until I was six months pregnant to tell people about Charlotte, including some of our closest friends and family, and that was mostly because I couldn't physically hide my baby bump any longer. Unfortunately, with your second pregnancy, you start showing a lot earlier and by three months, most of my pants weren't buttoning, and in certain outfits you could def see a baby bump. But since I wasn't ready to share the news, I had to get creative with my wardrobe to hide my pregnancy and I got good at figuring out how to hide a baby bump.
When we finally did spill the beans, I was surprised at how effective I was at hiding it for so long.
Now I'm on my third pregnancy and this time, we ended up waiting until I was almost six months pregnant to spill the beans once again. I go into why in more depth in this post and this post, but after experiencing a miscarriage and undergoing more fertility treatments, I couldn't shake the paranoia that if I uttered the words "I'm pregnant" I'd jinx us and we'd lose the baby. I am also pregnant during a pandemic this time around, so I'm not seeing as many people, working remotely, and busy chasing after two other kids and running multiple businesses, so it also felt like less of a thing I needed to announce. With that said, I have really become an expert on how to hide a baby bump by now. Even people we saw regularly didn't know until I told them, and trust me, I'm not one of those people who you can't tell is pregnant. My bump was pretty visible from early on again this time. I think it's that way with every successive pregnancy, or at least that's been my experience so far.
Needless to say, three pregnancies later, I've figured out some good tricks for how to hide a baby bump that I'm excited to share with you. I did a lot of googling, and found no stories on this topic, and so many bloggers and people I follow on Instagram were showing off their bumps so much earlier than me, that I couldn't even lean on them for help. It's totally up to you if and for how long you hide your pregnancy, and a very personal decision, but if you're trying to keep your pregnancy under wraps, here are my favorite styling tricks for how to hide a baby bump.
Peplums
This peplum top and drawstring pants set is not only super comfy but also helps hide a growing bump
This wrap style peplum dress also had a busy pattern so was great for disguising a five month bump.
This Zara top was under $30 and such a steal. The peplum cleverly disguises and it's a little oversized so it actually worked as my bump grew. I'm six months pregs here and you can't really tell.
This dress has a smaller peplum but it also offers a boxier fit and was a go-to in disguising my bump at work.
Jackets
Especially as I got bigger, I wore a lot of jackets to hide my bump. Luckily, my office tends to be cold, so it wasn't that weird that I'd wear them inside the office too, or on my shoulders during a meeting.
Dresses with Strategic Waistlines
I assumed baggy dresses would work better, but I actually found dresses that nipped in right below your rib cage and offered wider skirts were better at disguising my mini bump in the first and early second trimester.
Busy Patterns
A busy pattern is key to camouflaging a bump.
Stripes work well to distract the eye.
Layers
Layering is one of the best tricks for hiding a bump.
Here, I'm wearing a turtleneck over a dress and a blazer over that.
Strategically Placed Ruffles
Ruffles are a pregnant woman's best friend in the first few months. Here I'm six months pregs, but you can't find the bump under all those layers and polka dots.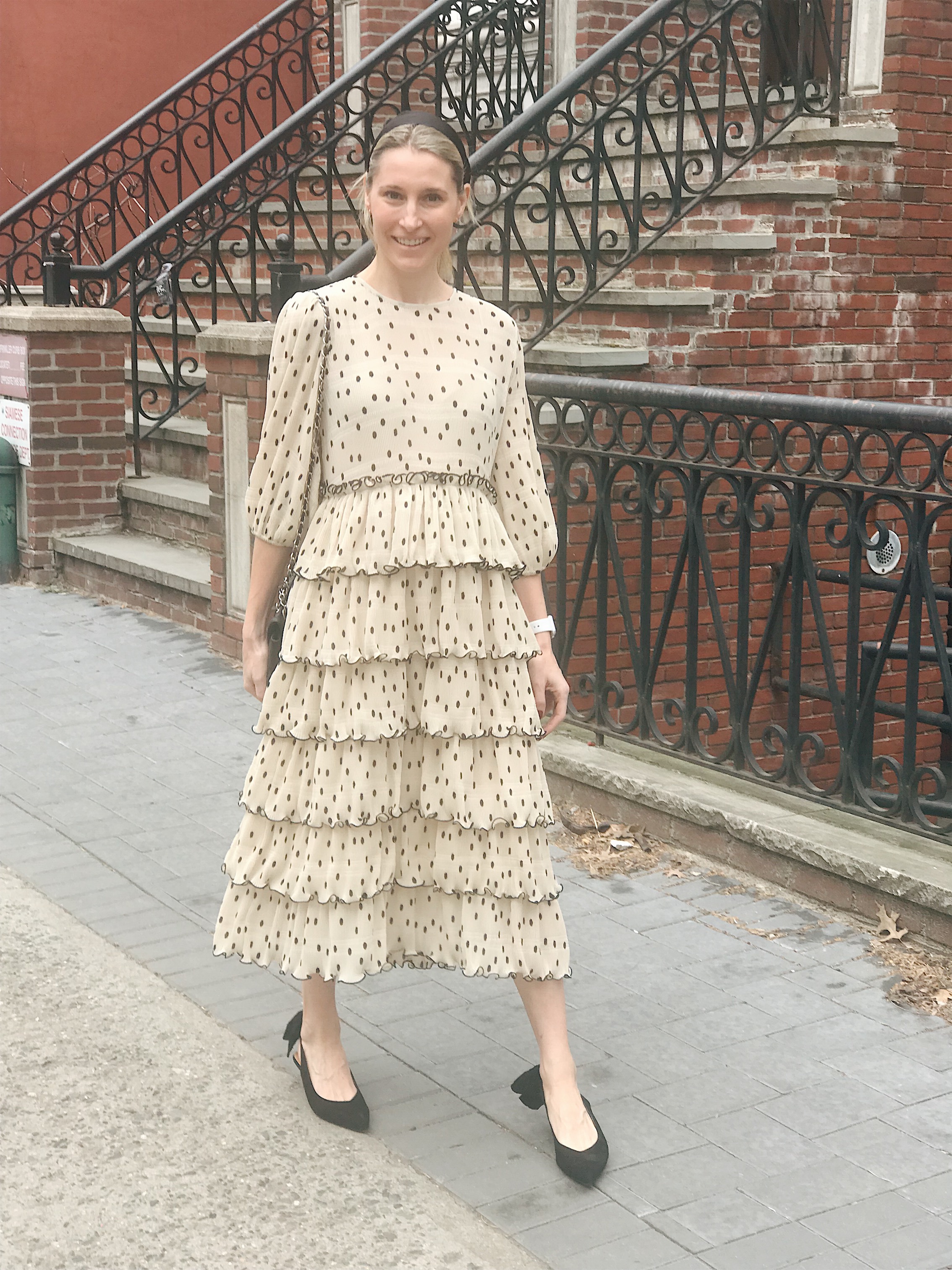 Wrap Skirts
Wrap skirts like wrap dresses aren't as constricting as your waistline grows, and then I'd just throw over a bigger sweater to conceal.
Vests
I think I wore this vest over dresses at least three times a week during my first six months of pregnancy with Charlotte.
Oversized Sweaters
I lived in oversized sweaters for as long as I could. They also made it easy to continue wearing my regular jeans with a bellyband.
Blazers
Like jackets, blazers are a must for hiding a bump, especially in the early stages.